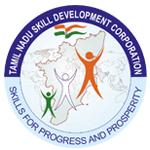 Tamil Nadu Skill Development Corporation (TNSDC) was formed with an objective to provide demand-based and industry-relevant skills to the youth to enhance their employability and transform the State into the skill hub of India. A company wholly owned by Govt. of Tamil Nadu.
TNSDC is the Nodal Agency for the skill development related activities in the State and it aims to converge the activities of various stakeholders including industries, industrial associations, training partners, sector skill councils, assessment agencies apart from various other State and Central Government bodies. TNSDC strives to ensure placement-oriented quality skill training by empanelling private and Government training partners.
In order to ensure the quality of training programmes, third-party independent assessment, as well as certification, is being done by State Council of Vocational Training (SCVT) and the concerned Sector Skill Council (SSC). This paves way for a fair and unbiased assessment and certification process.
On completion of training, successful candidates are part of the TN Skill Registry which will be the state repository of skilled candidates and accessible to the private employers who have registered in the TN Private Job Portal. This will ensure the trainees who have undergone short term skill training are immediately employed.